About us
S.C. EVIDECOR Company  S.R.L from Timisoara is the first Romanian company which in 2002, following a long research program, succeeded to begin the industrial production of of colored sand, colored quartz and colored decorative stones.
The experience and professionalism of our chemistry engineers, combined with an experience of over 20 years of the sole shareholder of S.C. EVIDECOR Company  S.R.L in manufacturing and trading of quartz sand, quartz and decorative stones, together with solid technological basis, all represent the guarantee for the quality and beauty of EVIDECOR® products.
We have raw materials suppliers from U.E, Romania, Canada, as well as representatives and distributors of some companies from other meridians.
From the range of EVIDECOR® products, we mention colored sand, colored quartz, colored decorative stones, natural exotic stones, natural sand, manufactured with a modern technology, using the best raw materials, covering a wide range of fields of usage, in a palette of over 50 colors, customized according to their usage.
The future projects of Evident Ltd. are permanently in the study of our research team, and also include – beyond colored quartz, colored sand, colored sand for industrial paving and tessellated coatings, colored decorative stones – other products that will be soon available.
The products are trade under the mark EVIDECOR®, registered mark, property of EVIDECOR Company  S.R.L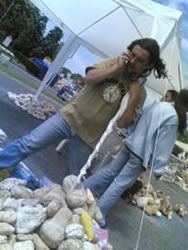 The usage fields are various: industrial and commercial decorative paving with colored sand and quartz, decorative finishing, mineral and tessellated coatings, aquaria decoration, impregnation of bitumen coated boards, landscaped architecture and various decorations, decorations of flower pots, etc.
They create a nice environment and have the role of natural barrier against water evaporation from the flower pots and floral arrangements, high mechanical resistances when used for industrial paving, mineral tessellated decorative coatings and the impregnation of bitumen coated boards.
The carefully selected aggregate grading defines all EVIDECOR®®, products , tested in the laboratories of Research Institute PROCEMA S.A Bucharest – Timisoara subsidiary being fitted for their intended purpose.
After the first years of activity in manufacturing colored sand, quartz and stones, the trademark EVIDECOR®  is a market leader and the sole manufacturer of this type of products in Romania.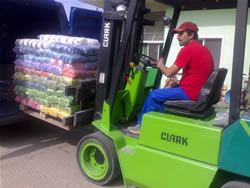 Our products attracted attention of U.E customers, and also of customers from other countries. Sales were made in these countries, and their interest becomes higher and higher.
Out of respect for our current customers and future assistants, this site will run in 8 international languages: Romanian, English, French, German, Hungarian, Serbian, Bulgarian and Italian.
Evident Ltd. Timisoara – Romania is a company with integral private Romanian capital, having Mr. Chemist Engineer Dorin Pandurescu as sole shareholder, dorin@evidecor.ro
Hoping that you will find in our site the information you need, we wish you a nice navigation in the fields you are interested in, and your opinions are very important.